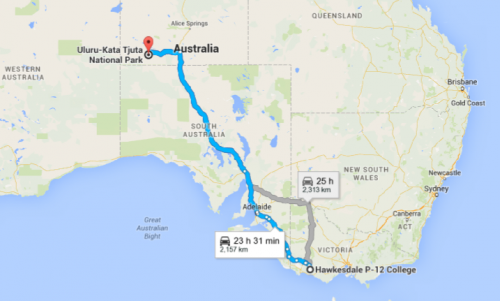 Learning Intention: "Solve a range of problems involving rates and ratios, with and without digital technologies."
It is very useful when travelling to be able to solve problems that involve time, distance and speed. For example, how long will it take for me to drive from Hawkesdale to Melbourne or if it takes me 2 hours to ride to Port Fairy, how fast was I riding? The equation we use is: velocity (speed) = distance divided by time. You need two of these variables to calculate the third.
BBC Bitesize has a good explanation and some problems to try.
In the example above, Google Maps shows that it takes 23 hours and 31 minutes to drive to Uluru, 2,157km away. So we have the time and the distance – what is the assumed speed we are travelling?
Your tasks are:
(1)  Choose two locations and use Google maps to find out the distance between them. Then choose a speed to travel to calculate how long it will take to get there.
(2) Choose two different locations and calculate how fast you would need to travel to get there in one hour.
(3) Send me a copy of your questions and working out.
(4) Do the Bitesize Quiz and send me a copy of your score.